Nollywood actress, Luchy Donalds, has taken to social media to show off the apology gifts she received from her man.
Taking to her Instagram stories, the screen diva shared the video, which captured the romantic moment she was surprised with a box of gifts from her man.
According to her, her lover had planned a surprise apology with one of her best friends. The gift box contained an apology card, an iPhone, and a microphone, to name a few.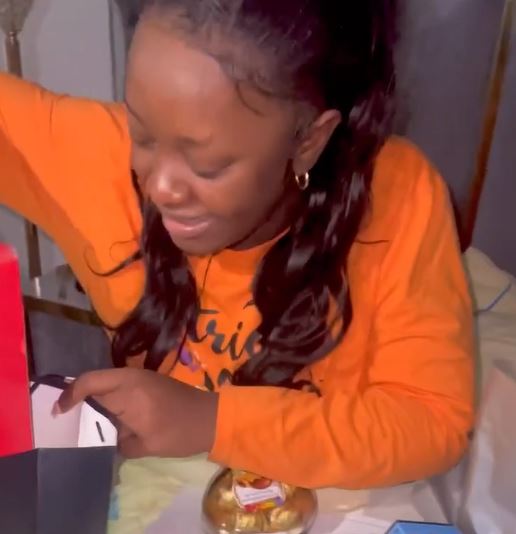 He also gave her a flower bouquet and sent money to her account.
Sharing the video online, she wrote,
"And my man planned this surprise apology with my friend @som_tizzle_ Girllll!!! I wasn't ready to see my faceee. And thanks for the alert baby…Fam I won't post it o. I no get strength for some people wahala o. I forgive you my love".
Watch videos below,
A while back, Luchy Donalds took to social media to appreciate her boyfriend after he gifted her N10 million.
Luchy who shared a screenshot of the credit alert, said he gifted her the N10 million after a company she signed a deal with started stressing her out.
She noted that she usually wouldn't do this, but she's putting it out there so the world knows she's got the best man.
"Normally I wouldn't do this but guyssss, the world needs to know I got the best man, honestly this one got me in a special way because damn I was sooo stressed but my boyfriend is so sweet and just 2weeks ago oo, he sent me some millions but I wouldn't mention. I love you babyyyyyy. Can your boyfriend everrr?"
"My boyfriend is just the best. So I went to Lagos to sign a a deal 2-3 days ago and when I got there these people started stressing me, I was so stressed ehh and my boyfriend said baby refund them I will give you back the money, so I refunded them. He just sent me back the 10 million naira for my stress", she wrote.