It was only a few months ago that Apple announced a new line of products that included their iPhones (14, 14 Plus, 14 Pro, and 14 Pro Max models), Apple Watches (Series 8, SE, and Ultra models), and the AirPods Pro 2nd generation. The average Apple consumer may not have expected to hear about new products from the tech giant for a few months but, lo and behold, Apple arrived with a surprise to kick off their 2023 year.
With iOS 15 and the iPhone 15 line set to arrive later this year, Apple started things by unveiling a new MacBook Pro and the HomePod 2nd generation. Here's everything you need to know about the news.
MacBook Pro
First up: new MacBooks. Apple announced 14- and 16-in models of its MacBook Pros, complete with its latest M2 Pro and M2 Max chips. We'll get into the differences between the chips in a second, but overall, the MacBooks boast some promising features. Apple claims the 14-inch model has quite a healthy battery life; 18 hours of video playback and 12 hours of wireless web browsing.
The 16-inch model holds what Apple claims is the "longest battery life ever in a Mac" thanks to 22 hours of video playback and 15 hours of wireless web browsing. These numbers are based on tests conducted with the M2 Pro chip. Both MacBook Pro models include Wi-Fi 6E and a "more advanced HDMI" that supports 8K displays up to 60Hz and 4K displays up to 240Hz.
M2 Pro
The M2 Pro chip launches with a 12-core CPU, up to 19-core GPU, and up to 32GB of unified memory. It also has twice the transistors that the M2 chip had and 20 percent more than the M1 Pro. The M2 Pro chip also has 200GB/s of unified memory bandwidth and Apple claims that the chip can "process images in Adobe Photoshop up to 40 percent faster than with M1 Pro, and as much as 80 percent faster than MacBook Pro with an Intel Core i9 processor."
M2 Max
The M2 Max chip boasts up to 38 cores of GPU power and support for up to 96GB of unified memory. The chip has the same 12-core CPU as the M2 Pro, but it puts out much more GPU power. Apple says the M2 Max chip is 30% faster than the M1 chip in graphics and that it can "tackle graphics-intensive projects that competing systems can't even run."
Now that we got all the technical details out of the way, here's the most important info. The 14-inch MacBook Pro with M2 Pro starts at $1,999, with the 16-inch model starting at $2,499. Both are available to pre-order on Apple and they'll both appear in Apple stores on January 24. You can also watch a 19-minute video about M2 Pro and M2 Max chips from Apple here.
You can view more info on the 14- and 16-inch MacBook Pro's M2 Pro and M2 Max chips here.
HomePod 2nd Generation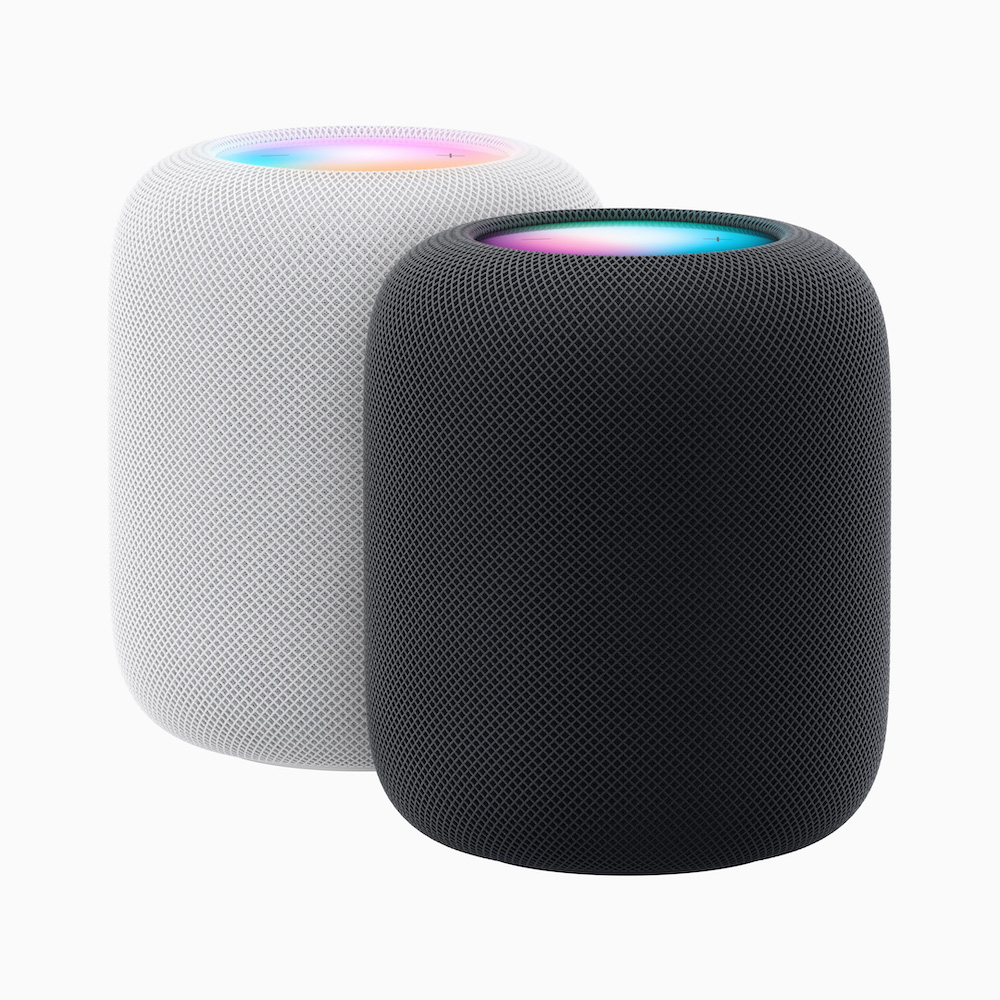 Here we have the 2nd generation HomePod from Apple. The latest generation comes almost five years after Apple debuted the first model and a little over two years since Apple released the HomePod Mini. The new model is wrapped in mesh fabric with a backlit touchscreen top, just like the HomePod Mini. In addition to the traditional white model, the HomePod 2 also comes in midnight and both colors come with cables in the matching color.
As expected, the biggest improvements are on the inside of the speaker. The new model is powered by an S7 processor for computational audio, a high-excursion woofer, an internal bass-EQ mic, and an array of five tweeters. With all this together, Apple claims that you'll get a "groundbreaking listening experience" with the HomePod 2. Furthermore, the HomePod carries a new room-sensing technology. It now has the ability to recognize sound reflections from nearby surfaces and determine if it's against a wall or standing in an open space and adjust the sound accordingly. The HomePod 2 can be paired with another HomePod 2 model or with the HomePod Mini, but it can not be paired with the HomePod 1.
Users can also hand off media from their iPhones to the HomePod, as they've been able to do with the HomePod Mini.
As if things weren't great already with the HomePod 2, you'll eventually be able to use the device to listen for smoke and carbon monoxide alarms thanks to the Sound Recognition feature. It's not available at the moment, but it will come in an update for the device in June. Ultimately, the way it works is if the HomePod 2 detects these sounds, it will send a notification to your iPhone immediately. Lastly, a new temperature and humidity sensor allow you to measure indoor environments to have the air conditioning turned on or off at a certain temperature and Siri will still answer your neverending requests.
Now that you're aware of all the technical features, here's the price: the HomePod 2 checks in at $299. It's available for pre-order now and it will hit store shelves on February 3.
You can view more info on the HomePod 2 here.