Who makes the best fast food double cheeseburger? We tried to answer this question two months ago when we blind-taste tested our favorite fast casual double cheeseburgers. But looking back on that list, it seems a bit unfair. The burgers we selected for that list were from what you can arguably call "fast casual restaurants" and two of the three — In-N-Out and Shake Shack — are only available in a handful of states.
That leaves a lot of people out of the conversation, and we're not about that — so we decided to run another round of blind double cheeseburger taste tests by focusing on five of the biggest brands in the fast food universe. We grabbed double cheeseburgers from Burger King, Carl's Jr (AKA Hardee's on the east coast), Jack in the Box, McDonald's, and Wendy's and put them to the blind taste test in search of the very best.
Who will come out on top in this fast food burger brawl? Place your bets now.
PART I — Methodology
This year we've blind taste tested double cheeseburgers, chicken sandwiches, crunchy tacos, and French fries (twice), and each time I've pulled my hair out trying to figure out how to collect as many orders as I can while still ensuring that the food is warm, in order to be as fair as possible. That wasn't an issue this time. We're dealing with the big brands here, so four out of five of these restaurants were located in the same two-block radius.
The only restaurant that was a bit out of the way was Wendy's. I picked up that burger first and hoped for the best as I rounded up the other four. Once home, I went outside, donned my trusty blindfold and waited as my always-patient girlfriend served me a cross-section of one burger at a time. I took a few bites and moved on to the next one. After the burgers were tasted, I photographed the untouched cross-sections so you wouldn't have to see my gruesome bite marks.
The burgers used in this taste test included:
Burger King — Double Whopper With Cheese
Carl's Jr — Double Superstar
Jack in the Box — Ultimate Cheeseburger
McDonald's — Double Cheeseburger
Wendy's — Dave's Double
If you're a McDonald's Quarter Pounder fan, I hear you, and originally I was going to include the Double Quarter Pounder over the value menu Double Cheeseburger but several people insisted that I order the Double Cheeseburger instead (girlfriend included) claiming it to be the superior burger. In short, if McDonald's ranks lower than you'd expect, blame my girlfriend.
PART II — The Tasting
Taste 1: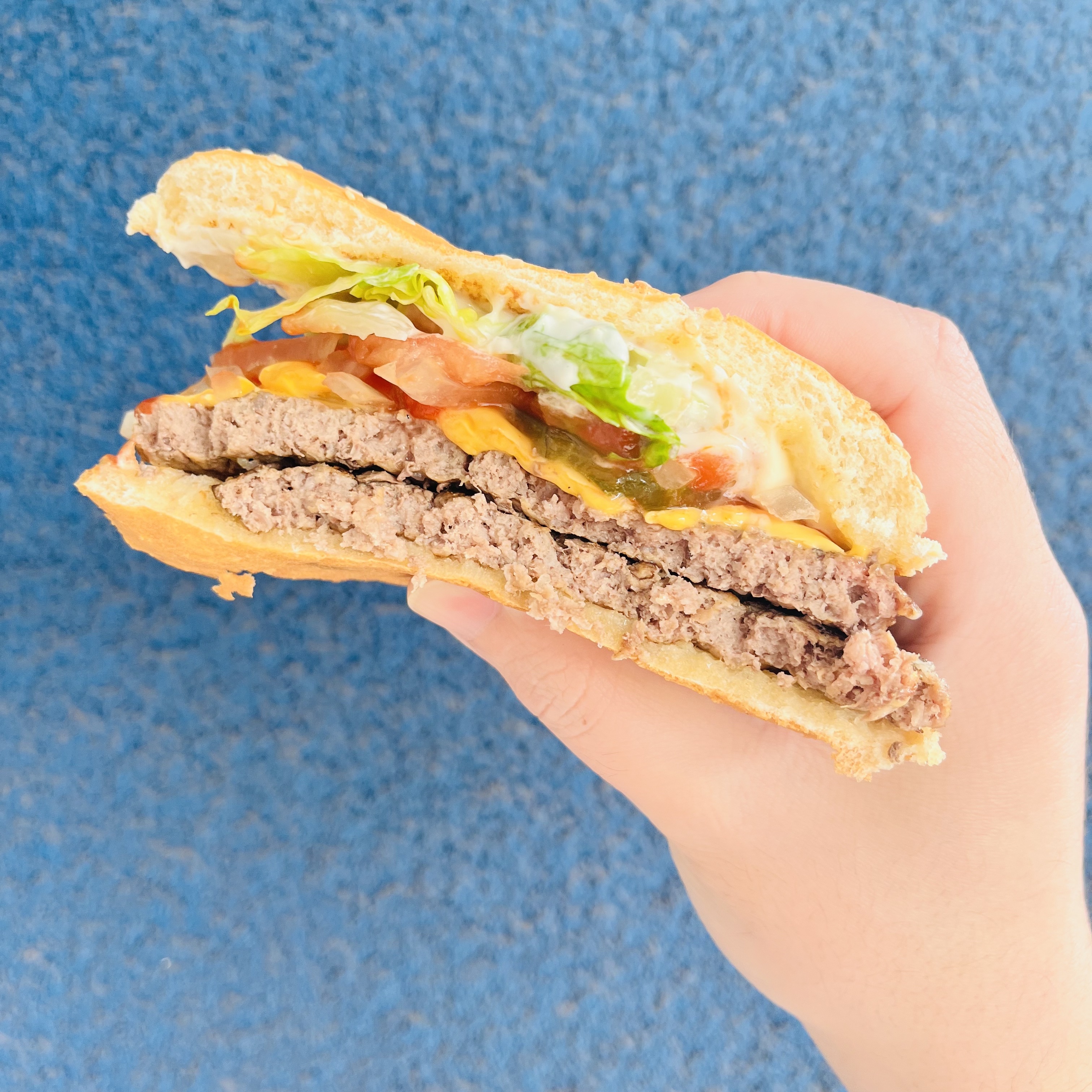 None of the ingredients are coming together here. I'm tasting onion, ketchup that's too sweet, some savory mayo, giant chunks of overpowering onion, watery tomato, bitter wet pickles, and mealy beef that's far too dry. The flavors just don't seem to meld in the way they should, each ingredient is hitting my taste buds in succession rather than as a harmonious whole.
What's worse is, none of those individual ingredients is very good on their own. We're off to a rough start.
Taste 2: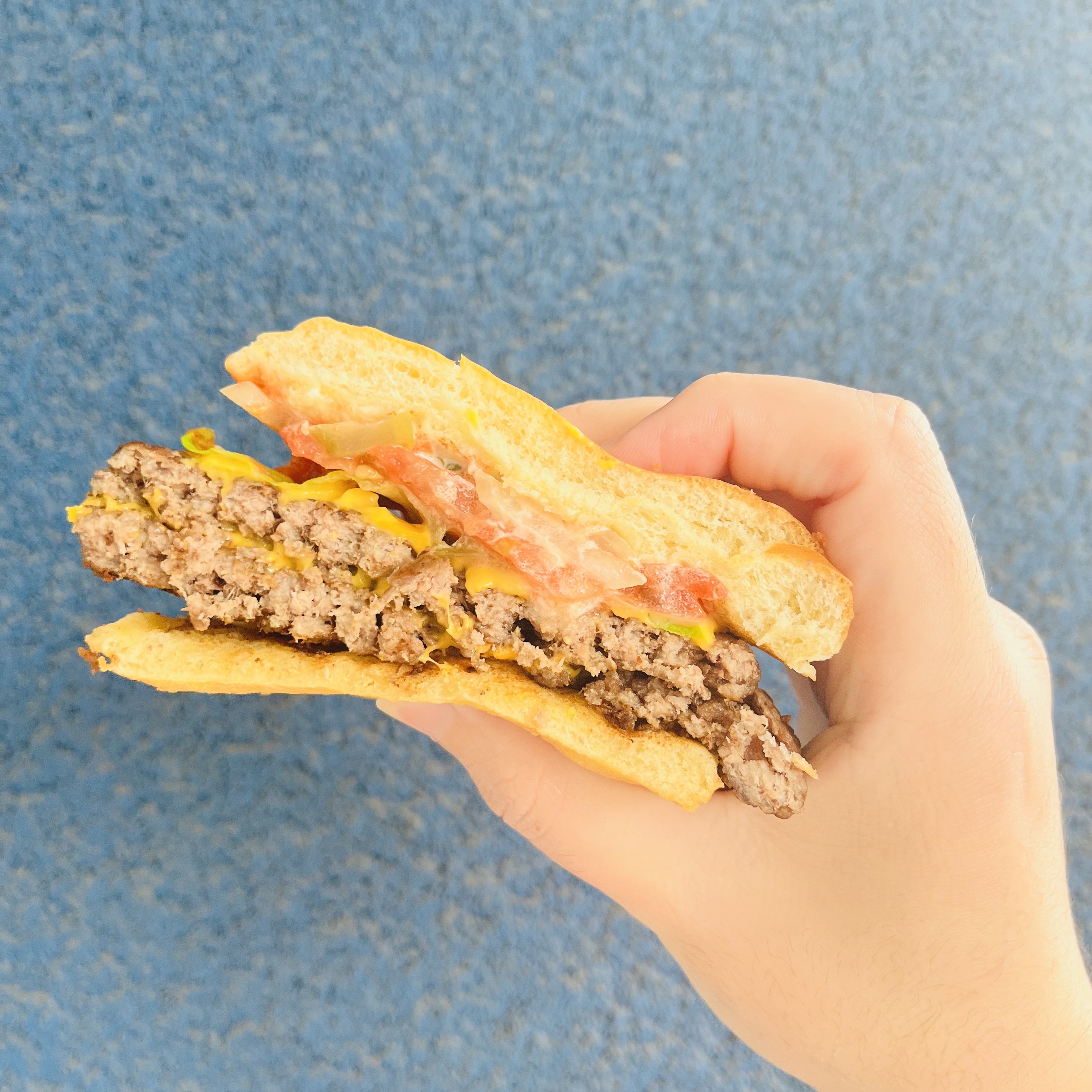 A significant step up from Taste 1, the meat is very prominent in this burger, it has a great savory flavor and a juicy texture that doesn't taste overcooked. It's bursting with umami, and while the meat is thick, it's easy to chew through. Overall it's very greasy, and maybe a bit over-salted, but it tastes decadent in all the right ways.
The bun is soft and spongey, and the pickles, onion, and tomato medley bring a nice snap to the mouthfeel and a fresh infusion of flavor that helps balance out the beefy notes.
Taste 3: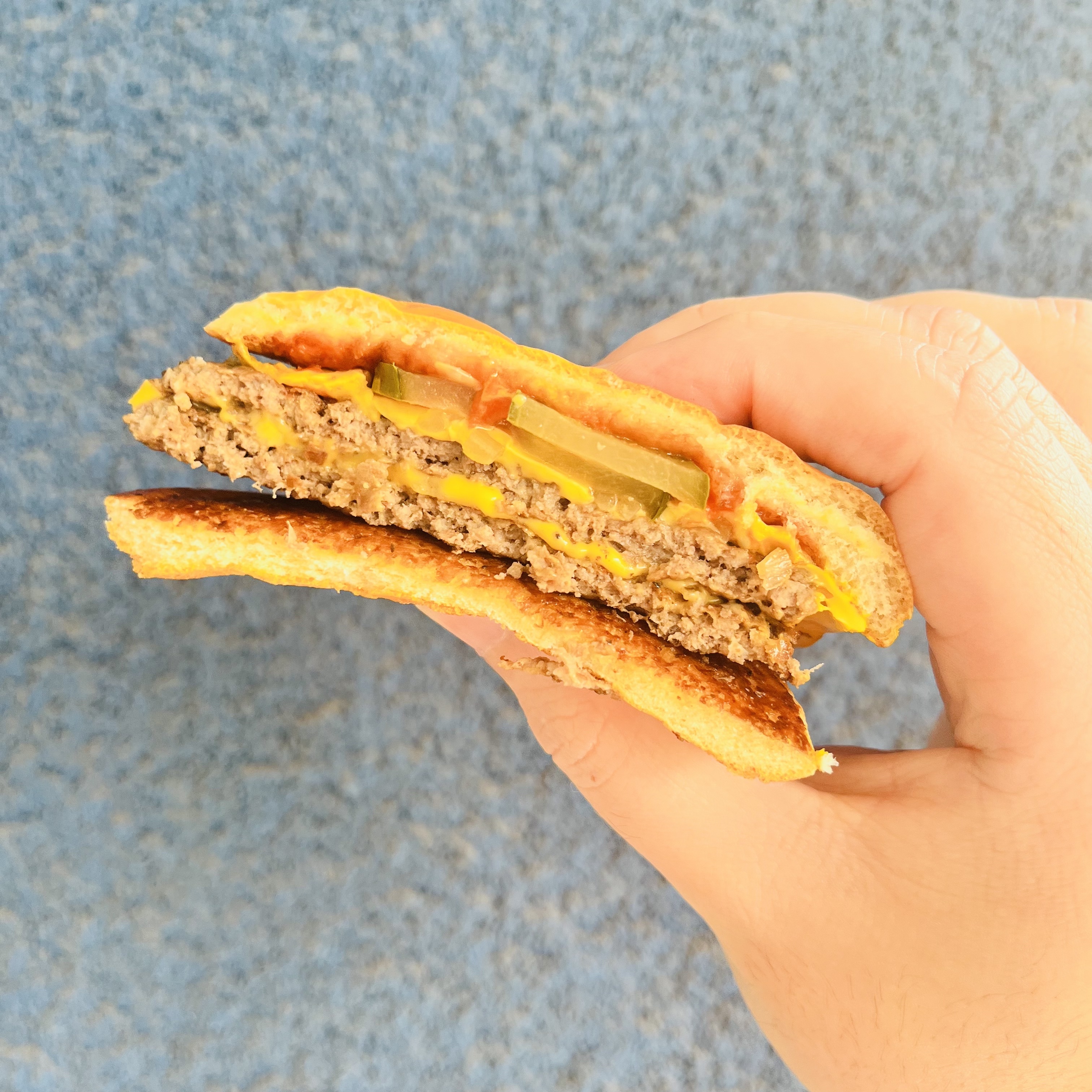 Compared to the last two burgers, this one feels incredibly small. It's almost bite-sized by comparison. It's a little hard to tell it's a double — the ratio of meat to bread is a little too weighed to the bread side — but the flavors are pretty interesting. The onions and pickles have a very strong and pungent quality, and the meat is way too salty and yet.. there is a strange, addictive pull to this one.
Each bite had me a bit thirsty for more, even though I wasn't completely sold by the flavor. It's not a very meaty burger, but damn is it satisfying.
Taste 4:
Hmm, this is a strange one. It's significantly cheesier than the other burgers, and there are some creamy nutty elements to the cheese. Pretty tasty, but the rest of the burger isn't doing it for me. The meat is very grainy and dry, the mouthfeel is mushy, and there isn't any tomato, lettuce, or pickles to balance things out.
It's not bad by any means, but it feels like something is missing from this burger.
Taste 5:
Very nice and meaty. The lettuce, onion, and tomato are a significant step up here, it's got snap and it's almost salad-like. The sauce is a bit sweet and very savory and helps to elevate the meat, which is great, but the meat is a weak point. It has a nice charred quality to it, but it's a bit overcooked and dry. It lacks any juiciness. It needs that sauce desperately to keep it from being a chore to chew through.
Altogether this burger is good but… not great.
PART III — The Ranking
5. Burger King — Double Whopper With Cheese (Taste 1)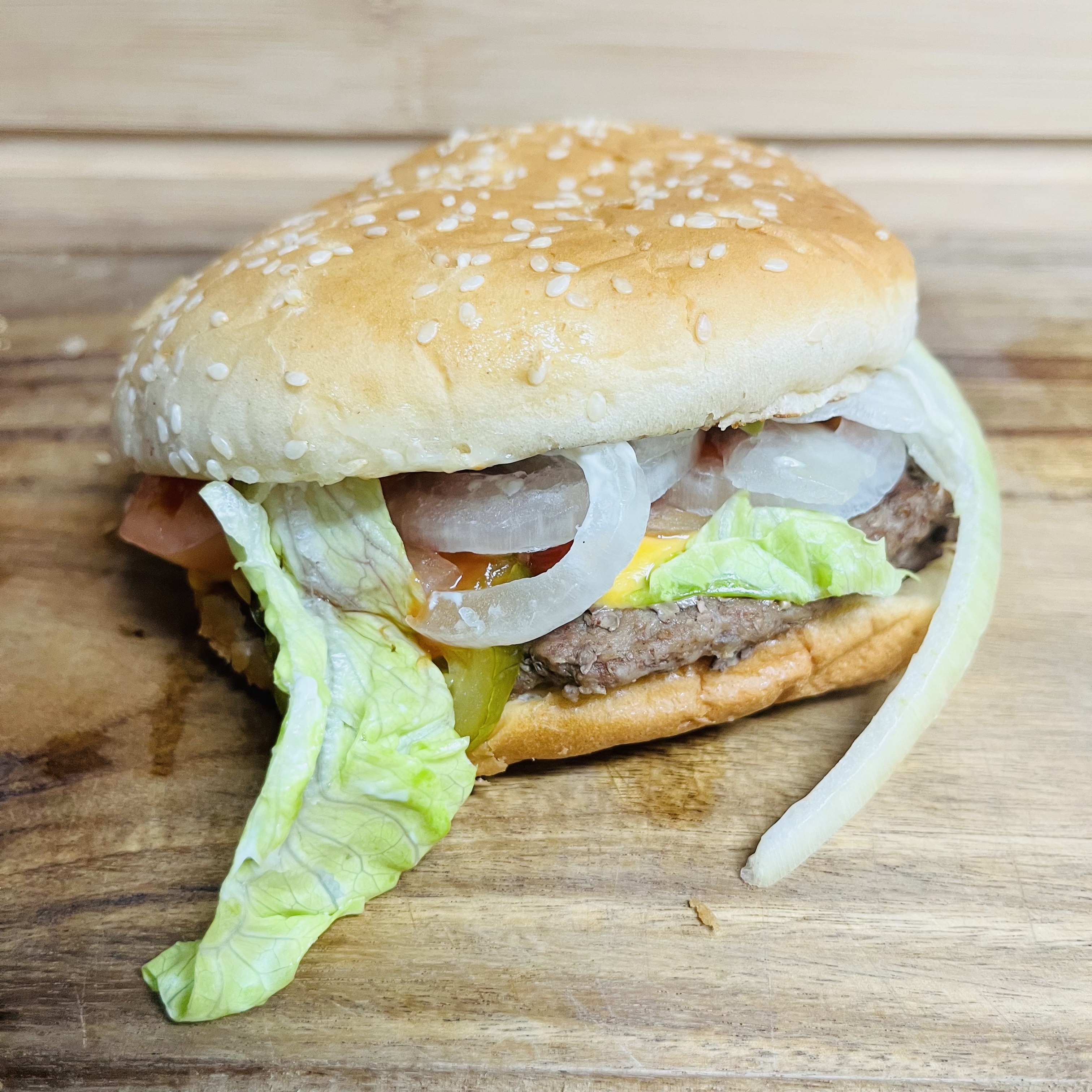 I've long been a vocal critic of Burger King so I can't say I'm surprised to see BK come in at last in this blind taste test. The Whopper is one of the most famous burgers in all of fast food, but it probably shouldn't be. It just doesn't have anything going for it that makes it special or sets it apart. Burger King's old claim to fame was that its burgers were flame-grilled but so are Carl's Jr's. And they do it significantly better than BK.
At BK you can have it your way — but let me suggest that "your way" is to avoid the Whopper at all costs.
The Bottom Line:
Stick with the Ch'King sandwich.
Find your nearest Burger King here.
4. Jack in the Box — Ultimate Cheeseburger (Taste 4)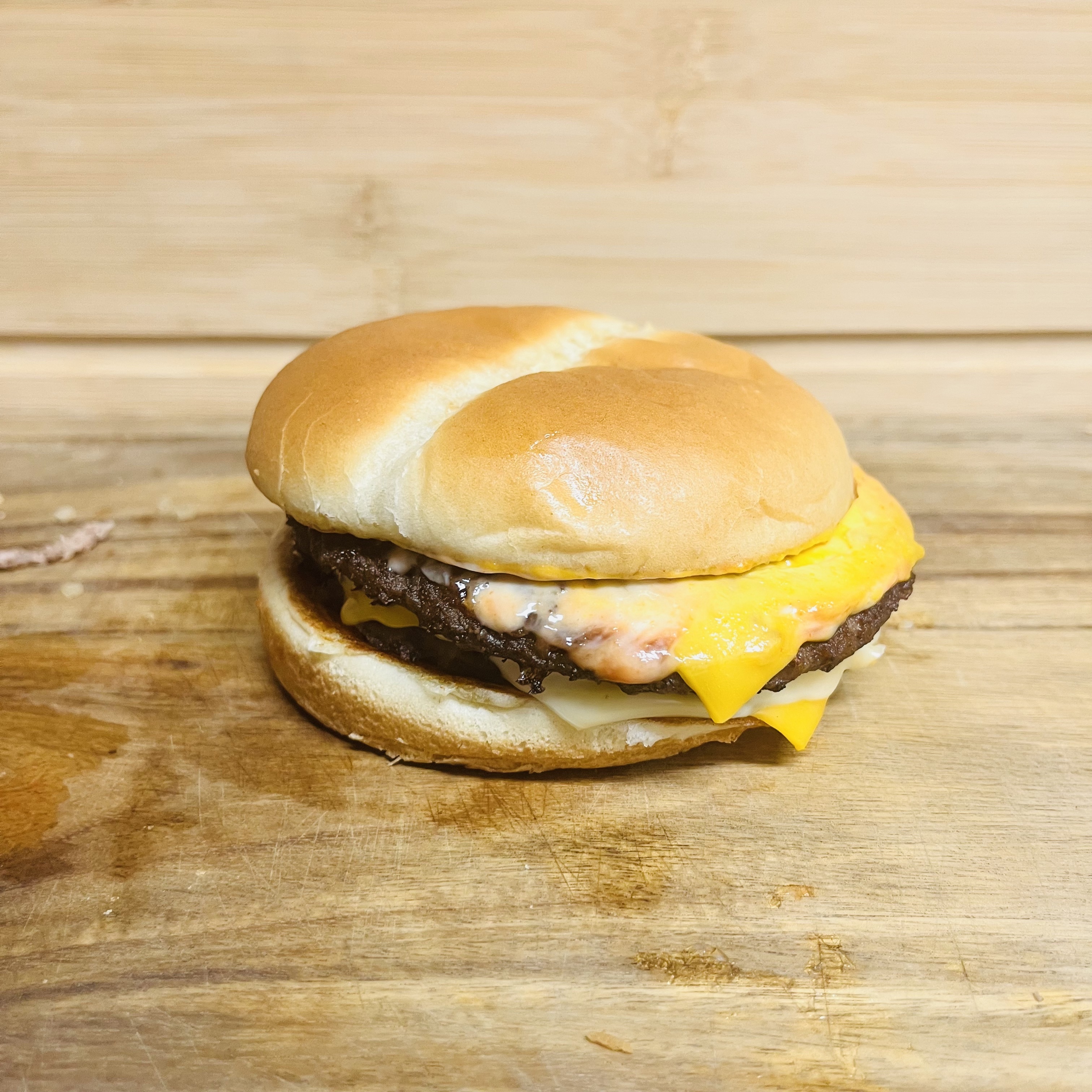 The Ultimate Cheeseburger is making a statement, it's saying "this is the best way to have a cheeseburger," and even if it's wrong, we applaud them for trying. My favorite part of this burger is that it has three slices of cheese on it, two American, and one Swiss. More fast food burgers should utilize Swiss, but at the end of the day it just feels like this burger needs a bit more to it to make it something special.
Maybe that "bit more" is simply adding bacon, which is probably why Jack in the Box has a Bacon Ultimate Cheeseburger, but unfortunately for them, this isn't a bacon cheeseburger ranking.
The Bottom Line:
It's at least interesting, but it's not quite the "ultimate" cheeseburger it claims to be.
Find your nearest Jack in the Box here.
3. McDonald's — Double Cheeseburger (Taste 3)
Okay, I get it, I'm on board with the weirdos who prefer McDonald's Double Cheeseburger to its Double Quarter Pounder. There is just something strangely addicting about this cheeseburger, maybe because it's the only double that you can finish and think "I could eat another one." I'm not sure, but with the weird salty flavor and the addicting toppings, this burger just works on the pleasure centers of the brain!
The Bottom Line:
Is McDonald's Double Cheeseburger superior to the Quarter Pounder? Absolutely. In this burger's case, less meat is more.
Find your nearest McDonald's here.
2. Carl's Jr — Double Superstar (Taste 5)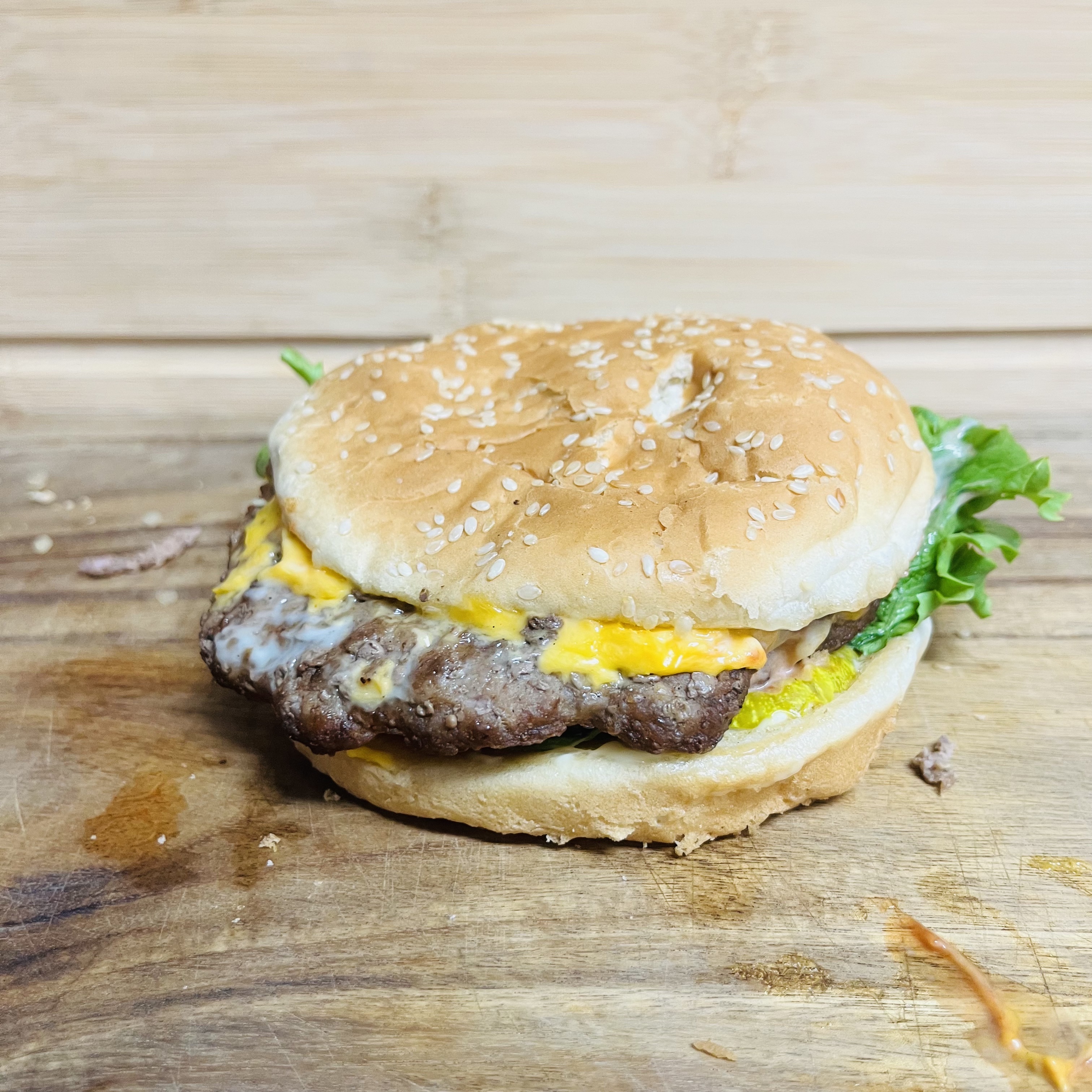 Carl's Jr gets an A rating on its ingredients. This is hands down some of the best produce you're going to find amongst big brand fast food companies and one of the largest burgers of the lot. As I said in the tasting portion, the tomato, onion, and lettuce have some nice snap, like I was eating a salad with a beef patty on top!
What holds Carl's Jr. back is the meat. It's too dry and too thin to really win me over. I think Carl's Jr knows this, which is why it has another class of burger — the Original Angus, but unfortunately, the Original Angus is not available as a double (at least officially), so it was disqualified from this taste test.
The Bottom Line:
It has a lot going for it, but the dry overcooked meat is holding it back.
Find your nearest Carl's Jr here.
1. Wendy's — Dave's Double (Taste 2)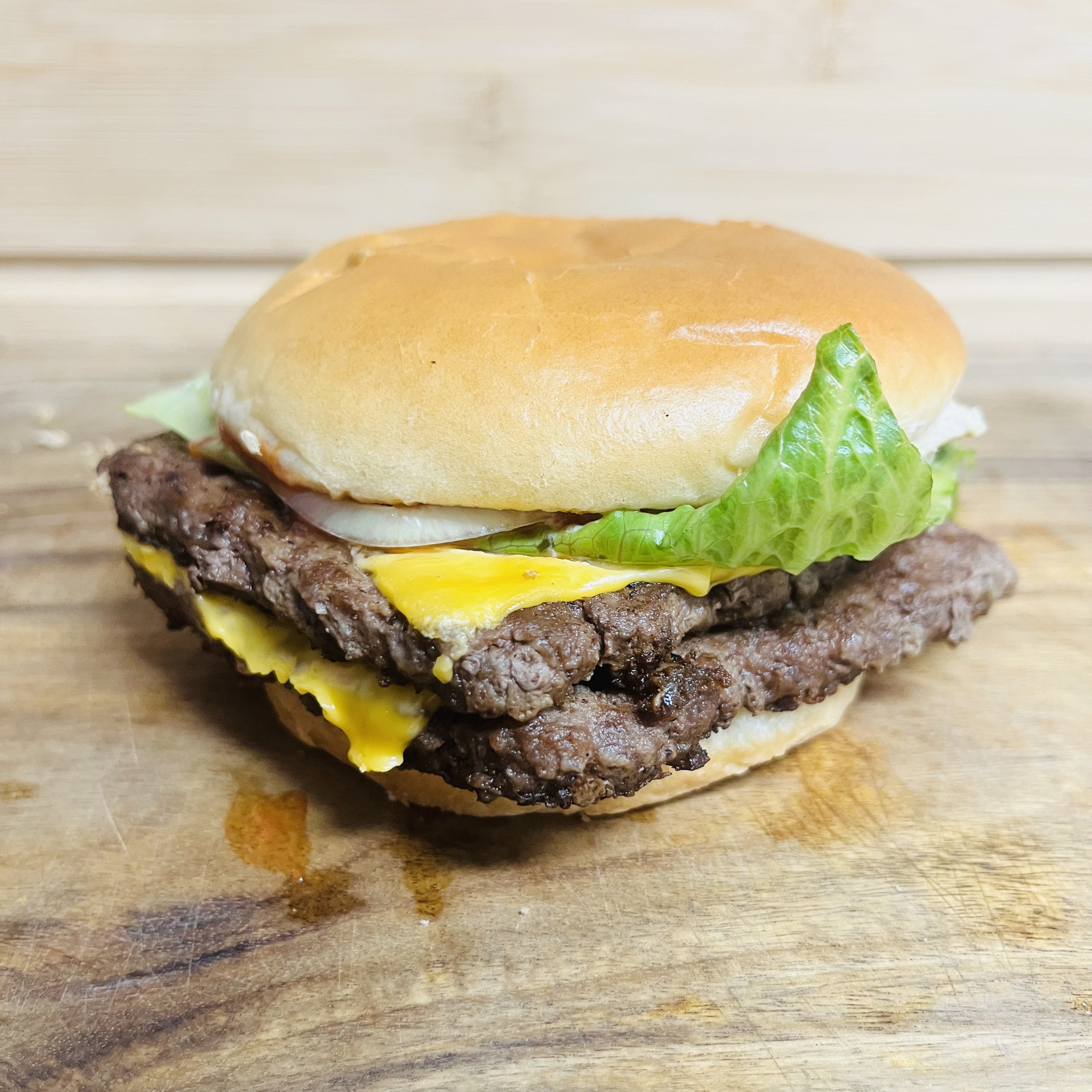 Even though each of the burgers in this lineup was from big fast food corporations, Wendy's deserves to be in another class. While the produce isn't quite as good as Carl's Jr's (especially this awful romaine lettuce), the meat is bursting with savory beefy flavor. Wendy's is the only brand out of the five that uses fresh non-frozen beef, and that really makes all the difference.
This burger just comes across as way more flavorful and therefore satisfying than the competition.
The Bottom Line:
Non-frozen meat makes all the difference. If the other big brands took a cue from Wendy's and ditched the frozen stuff for something fresher, we'd have a significantly better fast food landscape to navigate! Until then, if you're doing fast food double cheeseburgers from the colossal chains, make it Wendy's.
Find your nearest Wendy's here.