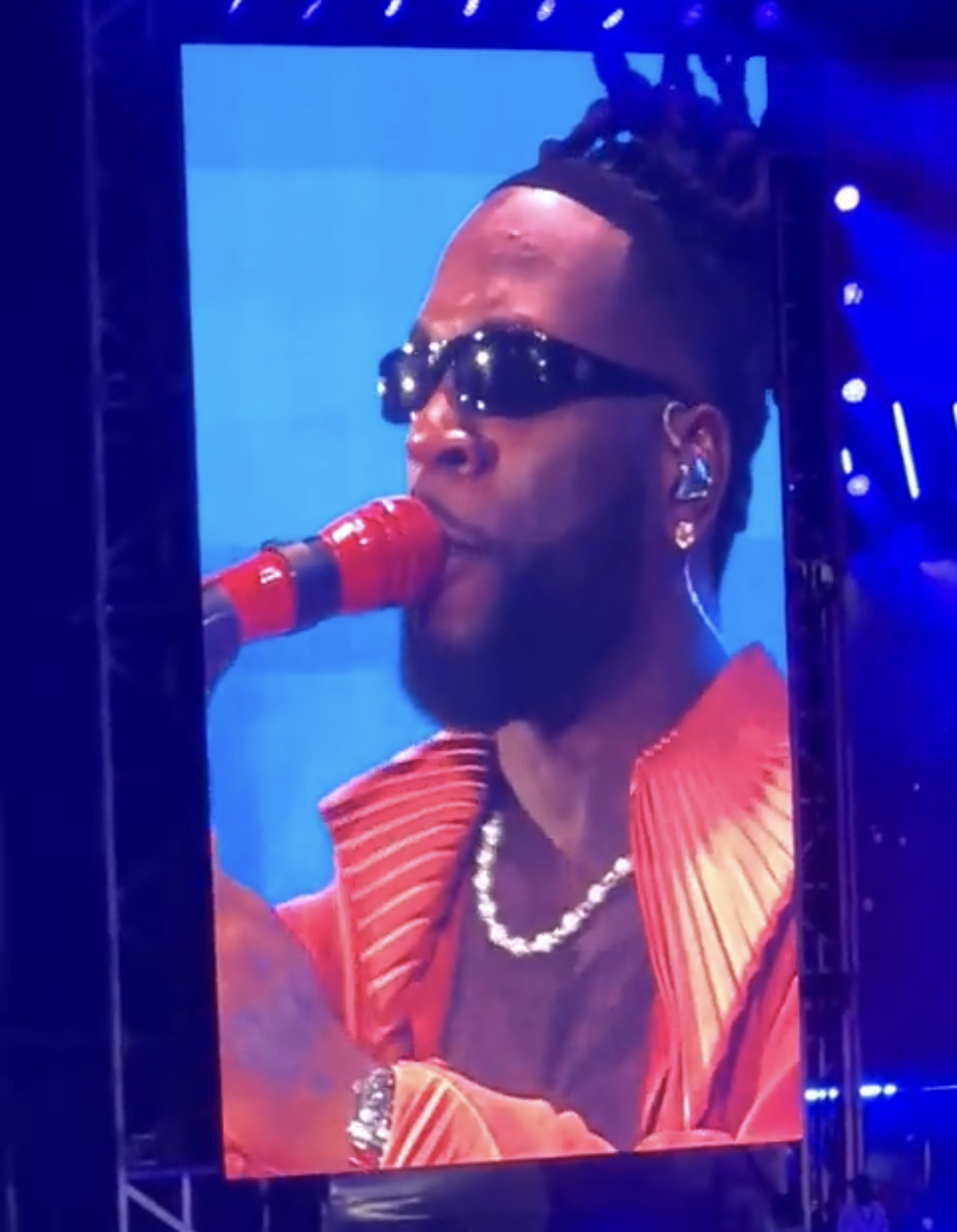 Afrobeats star and global hitmaker Burna Boy took his "Love Damini" tour to London on June 3, 2023.
Backed by his band "The Outsiders", the "For My Hand" crooner delivered a scintillating performance at the sold-out 60,000 capacity of West Ham United's London Stadium.
The singer treated the fans to a set list that included as many as forty-nine songs from his impressive catalogue of hits. The concert also had guest performances from the UK's top artists like Popcaan, Stormzy, Dave & Jhus.
Catch some of the best moments from the concert below:
Incredible entrance from Burna Boy in LONDON at his show! MASSIVE 🦍🔥 pic.twitter.com/WbP6DnWSte

— Idris (@Crhedrys) June 3, 2023
Burna Boy doing Burna Boy things. A real
African Giant pic.twitter.com/dnDvOBXu0C

— Alabi (@the_Lawrenz) June 4, 2023
First look into Burna Boy's sold out stadium concert in London.
It's a total shutdown! 🧡🔥

— 49th. (@the49thstreet) June 3, 2023
BURNA BOY!!!! I CELEBRATE YOU!!! 👑 pic.twitter.com/kV5cdsMRuD

— MrMacaroni (@mrmacaronii) June 4, 2023
LOL!! pic.twitter.com/uyiBysj4qP

— DOG EAT DOG II (@Odumodublvck_) June 3, 2023
Listen, Burna boy topped as the highest trending performance despite Beyonce and Coldplay having their own individual stadium concerts at different locations on the same night in the UK.

He has become the first ever African artiste to sell out a UK stadium(80,000 capacity). pic.twitter.com/afsniCrPMS

— Sabi Radio (@TheSabiRadio) June 4, 2023
Happy I was apart of this SOLD OUT historical event. It was beyond great🥹words are really not enough.

Burna team did an exceptional job. His hard work really shows every time he hits the stage. #LoveDaminiStadiumTour thank you London 🇬🇧🏟️

See you in New York @burnaboy pic.twitter.com/U2hJSRsWBa

— Is_ThatCollette🇧🇸 (@CoKoBahamasLove) June 4, 2023
I will NEVER get tired of hearing Burna sing this😢#LoveDaminiStadiumTour 🇬🇧🏟️ pic.twitter.com/g9BrNkhkFR

— Is_ThatCollette🇧🇸 (@CoKoBahamasLove) June 3, 2023
Sorry but when Burna brought out Michael😍(Stormzy) my heart was complete. #LoveDaminiStadiumTour 🇬🇧🏟️ pic.twitter.com/2YGkXmAeiK

— Is_ThatCollette🇧🇸 (@CoKoBahamasLove) June 3, 2023
80 thousand people screaming "Ye Ye Ye Ye Ye Ye" at the sold out Love, Damini concert in London Stadium 🏟️🇬🇧

This is legendary 🔥🔥🔥🔥 pic.twitter.com/EgufmMyzwV

— BURNA BOY STATS (@BurnaBoyStats) June 3, 2023
Burna Boy gives a special tribute to Sidhu Moosewala at his London concert ❤️ pic.twitter.com/hLbKfzE51E

— UB1UB2 SOUTHALL (@UB1UB2) June 3, 2023
Every time @burnaboy hits the stage and performs "Alone", it brings out an emotional connection to the life of @chadwickboseman.

The song has a deep connection to the ruins he went through during his last days, battling with such a grave health condition and still putting a… pic.twitter.com/ZWGM95ZN3G

— Francis Turay (@FrancisTuray8) June 4, 2023
Burna boy. How dare you bring out Popcaan, Dave, J Hus and Stormzy all in one concert. Don't ever let me enjoy like that again 😡 what a show! pic.twitter.com/AN4SxIXy0Q

— SP🇸🇱 (@septimusajprime) June 3, 2023
The moment Burna Boy picked up the drum stick at his show in London while performing K1lling them. INSANE 💯🥵🔥🦍 pic.twitter.com/Wu3gxYJOay

— Idris (@Crhedrys) June 3, 2023
The fans singing Ye as they make their way out of the London Stadium after an amazing show 🔥🔥🔥🔥 pic.twitter.com/d1w1SDU8hx

— BURNA BOY STATS (@BurnaBoyStats) June 4, 2023