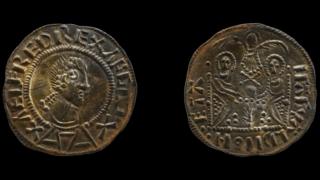 Two metal detectorists stole a £3m Viking hoard that experts say has the potential to "rewrite history".
George Powell and Layton Davies dug up about 300 coins in a field in Eye, near Leominster, Herefordshire, in 2015.
They did not declare the 1,100-year-old find, said to be one of the biggest to date, and instead sold it to dealers.
They were convicted of theft and concealing their find. Coin sellers Simon Wicks and Paul Wells were also convicted on the concealment charge.
During their trial at Worcester Crown Court, Powell, 38, of Newport, and Davies, 51, of Pontypridd, had denied deliberately ignoring the Treasure Act, which demands significant finds be declared.
Just 31 coins – worth between £10,000 and £50,000 – and pieces of jewellery have been recovered, with the majority of the hoard still missing.
Experts say the coins, which are Saxon and believed to have been hidden by a Viking, provide fresh information about the unification of England and show there was an alliance previously not thought to exist between the kings of Mercia and Wessex.
"These coins enable us to re-interpret our history at a key moment in the creation of England as a single kingdom," according to Gareth Williams, curator of early medieval coins at the British Museum.
Follow BBC West Midlands on Facebook, on Twitter, and sign up for local news updates direct to your phone.