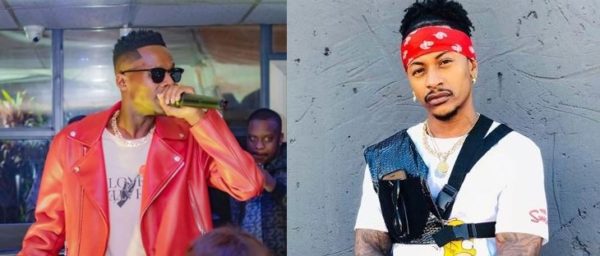 Duncan has taken to his Twitter to share his view after Priddy Ugly shared he's not afraid of anyone when it comes to he's pen skills.
This is coming after Priddy made the statement which made Duncan feel uncomfortable.
The rapper tweeted that he is not afraid of anyone when it comes to the pen.
Priddy wrote in Zulu "Angisabi muntu" and included a hand with a pen emoji in his post referring to his writing skills.
Duncan felt attacked and retweeted saying in Zulu "Awume wena sqamu" (Stop you shorty).
Duncan went on to share that: "We have given you too much respect, don't threaten us guys. We are jus rappers)".
Priddy could not let this slide away as he responded saying when it comes to creative process, Duncan was never a thought and he is certain he was never a part of his.
"Duncan was never really a thought in my creative process. I'm sure I've never been a thought in his.If me stating the fearlessness of the belief I have in my pen, can make an artist of his callibre feel like he needs to assert his belief in his skill..THAT'S THE ENERGY"
See tweet below:
Awume wena sqamu https://t.co/d9c5jt3psB

— #ZAKWE&DUNCAN (@DuncanSkuva) August 3, 2021
Duncan was never really a thought in my creative process. I'm sure I've never been a thought in his.

If me stating the fearlessness of the belief I have in my pen, can make an artist of his callibre feel like he needs to assert his belief in his skill..

THAT'S THE ENERGY 😤🔥!!

— sun from the SOIL (@ItsPriddyUgly) August 4, 2021