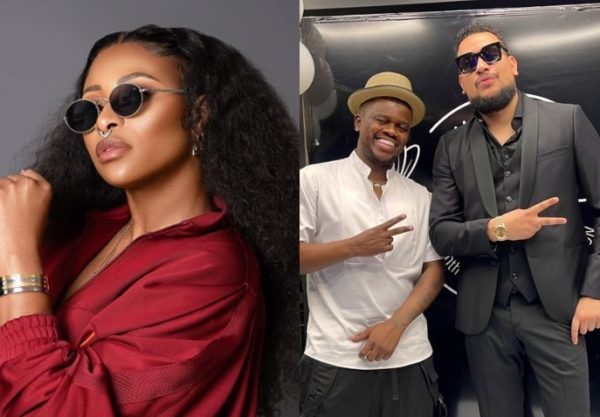 DJ Zinhle's baby daddies, AKA and Murdah Bongz got people talking after they bonded together in a photo shared on Twitter.
AKA who is Zinhle's former lover and the father of their daughter, Kairo Forbes shared a photo of himself with Murdah on Twitter.
In the photo, the two gave the same body language and looked elated to meet, but this was not the case for someone social media users.
"DAD MOTION," the rapper captioned the photo.
Famous upcoming rapper, Big Xhosa reacted to the photo positively.
"This the coolest thing ever. Us rich people we are peaceful like this. Broke people will never reach this level of understanding. Guys this type of peace comes with money. But to all my broke friends out there one day is one day you'll be rich and peaceful like us. Love this," Big Xhosa wrote.
Alot of people with different baby mamas/daddies could learn a thing or two from this. Unity is all that's needed when it comes to raising kids. Jwale some of us, siya loyana becoz we can't stand seeing that person we had a kid with happy. pic.twitter.com/2pBDkyjyZB

— After God, fear SA🇿🇦Men! (@BonoloAnne) September 22, 2022
So 2 men are being mature and the woman is getting credit for it? But if they were beefing, you wouldn't have blamed Zinhle for that beef.

— Thugnificent🔴 (@Otis_Jenkins1) September 22, 2022
He told you that??

— Yusuf Maart (@AndileSiso94) September 21, 2022
Everyone knows zodwa wa Bantu naked as well, so what's your point?

— Trust_R (@MVP_VPM) September 22, 2022
Exhibit A why I don't wanna date anyone with a child, now I gotta act cool with a guy that nutted in my girl… Maturity yamasimba!! pic.twitter.com/CiI5q56788

— CouncilorOfMidrand🇿🇦 (@_Luumz) September 22, 2022
Rich people have peace shame. Mara Tshepo le Vusi bako Pudumong would never. 😂

— Rustenburg 014 🌈 (@KaraboKotuu) September 22, 2022