A video of Nigerian singer, Davido's sister, Sharon, praying for the singer backstage before his performance in London last night has melted hearts online.
The superstar, who recently returned to the music scene after a long break, held his highly anticipated show for his new album, Timeless, on Wednesday night, April 5, in the United Kingdom.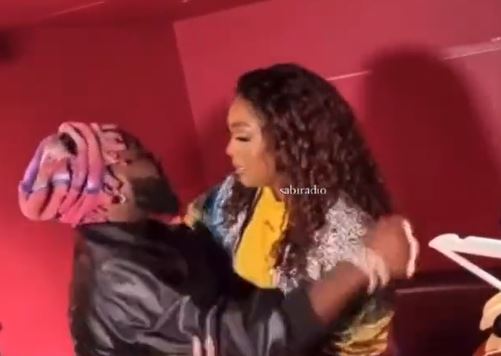 Moments before the performance, Davido's sister, Sharon, is seen in a video that surfaced online, passionately praying for the singer.
In the clip, the two were seen holding hands as Sharon showered him with prayers.
The heartwarming moment has left many gushing over the sibling bond the duo share.
Sharing the video online, she captioned it, "First things first."
Watch video below.
Just recently, a video of Nigerian superstar singer, Davido's encounter with a magician who accurately predicted where he and his wife, Chioma, would be going on vacation next went viral.
The video shows Davido participating in a magic trick where he is asked to think of a location he would like to travel to with his woman.
The magician, Alex Voz, then proceeds to guess the location, writing it on a board before asking Davido to say where he had in mind.
Davido revealed his answer to be South Africa, and the magician finally unveiled what he had written on the board.
Interestingly, what Voz wrote correlated with the music star's response, leaving Davido screaming in shock and amazement.