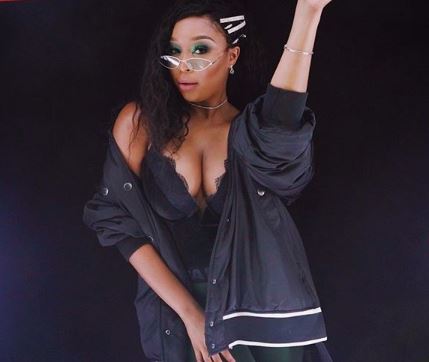 Sportscaster and TV personality, Minnie Dlamini went all naughty on Sunday as she shared a lascivious tweet which got everyone jaw dropping.
Mrs Jones, who has played the role of a modest and very responsible celebrity to fans got her fans thinking her Twitter account was hacked when she revealed her experience of being "d*ckmatized" after defining what the term means.
Different reaction erupted from her followers, while many felt she disregarded the holy day, which is Sunday with such tweet, some said she prolly didn't tweet the post with her hand.
Check out the tweet here with the various reaction:
Word of the day #Dickmatized
When a girl/(or guy) loses all sense of reason and logic. They start doing dumb shit that could compromise them in the long run… for the D! #Dickmatized ?? Ladies we've all been there ?

— Minnie Dlamini Jones (@MinnieDlamini) March 24, 2019
Ka Sunday e kana??? pic.twitter.com/D29HB3P0Jv

— Clement Lesiba (@ClementLesiba5) March 24, 2019
My thoughts exactly. MaDlamini's wilding lately. ?

— Khabazela (@Peabss) March 24, 2019
Minnie get your phone you're hacked!!! pic.twitter.com/WM0AJnS5R7

— Bulelani Mpengesi (@Buja3D) March 24, 2019
???? on a sunday nogal. I never esperredit?

— siphokazi (@KaziiMtshali_) March 24, 2019
if I was insecure husband pic.twitter.com/Tl0lRUoJki

— Makg (@Makg22) March 24, 2019
For heavens sake. It's a Sunday.

— The Philosopher (@Abel_Nkosinathy) March 24, 2019