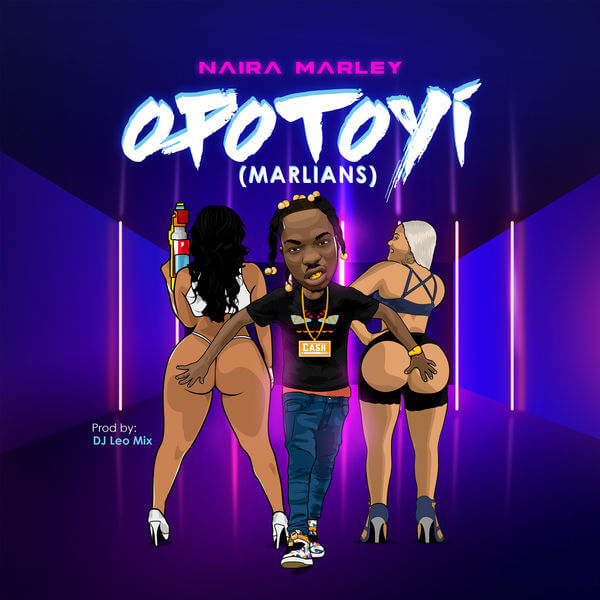 Naira Marley "Opotoyi" was released during the time the singer was having arguably the biggest challenge of his career.
At this time, he was fighting a battle to avoid going to jail after being arrested by the Economic and Financial Crimes Commission in relation to internet fraud. This challenge, however, did not deter him from going about his primary duties as he dropped "Opotoyi" on June 7, 2019.
It wasn't difficult for the song to become widely accepted an instant hit as the singer; Naira Marley's popularity already blown up as a result of his case with the EFCC. His popularity became what facilitated the popularity the song enjoyed on the streets and even in exclusive places.
Rexxie produced Naira Marley  "Opotoyi" and as expected, it was done in conformity with the Zanku trend which has taken over the dance culture in Nigeria. "Opotoyi" has a video that was released immediately the song dropped and was publicized on the 7th of June, 2019 on YouTube. Naira Marley is seen chilling with his gang and of course with ladies present. It has over 9.4 million views on YouTube.
Quotable Lyrics:
Marlians, Marlians, Marlians, Marlians, Marlians, Marlians, Marlians
Gbese, gbese, gbese, gbese, gbese, gbese
Marlians, Marlians, Marlians, Marlians, Marlians, Marlians, Marlians
Ashey opotoyi, (ashey opotoyi)
Aso le fi bo, (aso le fi bo)
Opotoyi, (Opotoyi)
Aso le fi bo, (aso le fi bo)
Ashey opotoyi, (ashey opotoyi)
Aso le fi bo, (aso le fi bo)
Opotoyi, (Opotoyi)
Aso le fi bo, (aso le fi bo)