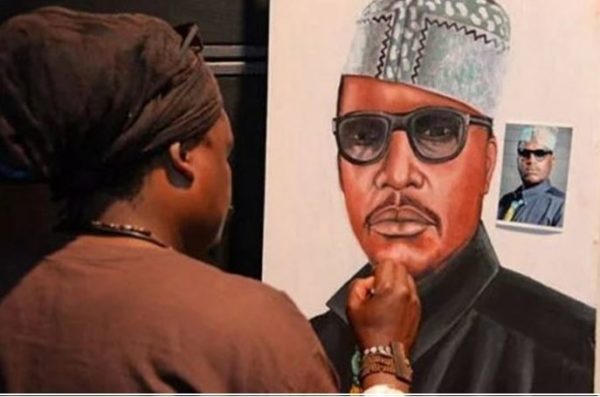 Celebrity funeral artist Lebani Sirenje aka Rasta, shook Twitter with his perfect painting of SA famous artist, SJava.
The painting of Sjava got lot of people confused, on if it was really Rasta's painting or another person's painting.
The celebrity painter has made history with paintings of HHP, Mama Winnie Madikizela Mandela, Akhumzi Jezile, Oliver Mtukudzi and many others.
However, all of the paintings of the people mentioned above attracted negative reviews, as it wasn't their look alike.
Thank you @Sjava_ATM ? pic.twitter.com/c234rw8w8S

— Rasta the Artist (@Lebani_Sirenje) March 31, 2019
Reactions which appeared to be quite funny be like:
I really don't like that Rasta has improved at his painting skills ?

— Mpho Bethia (@posta_1) April 2, 2019
Rasta is captured , we want the old Rasta . His latest paintings are too accurate https://t.co/9ADaRdEh1a

— Random_Mpondo (@That_Damn_Vuyo) April 1, 2019
We love you Rasta ! Keep up the good work. The painting looks perfect already, it is going to be a masterpiece ? pic.twitter.com/1QKyhdX7XL

— Belladonna ??? (@zandy_thabethe) April 1, 2019
Rasta knew how to paint all along. Now that he got y'alls attention with the wrong portraits, he can start making money by painting sentle pic.twitter.com/1KD4DS7cGG

— Cleopatra Mokokoane (@CleopatraDK) March 30, 2019
The Rasta we know Paints this kinda paintings

I HAVE A FEELING WE HAVE AN IMPOSTER HERE pic.twitter.com/Tjyvhvptzr

— T E B O G O (@_tebzar) March 30, 2019
What's going here ? Rasta don't let other artists influence you with their accurate paintings, stay true to yourself and redo that painting the "Rasta way" pic.twitter.com/e7eZP6Buq2

— Phumlani Cebekhulu (@pgcebekhulu) March 30, 2019