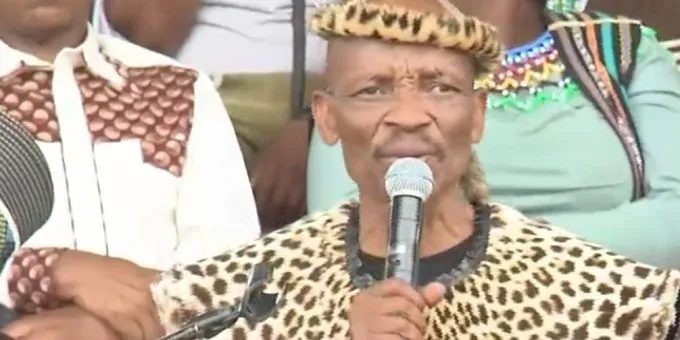 The Zulu royal family described slain Prince Mbongiseni Zulu as a peacemaker.
The late prince was laid to rest at the Osuthu Royal Palace in Nongoma in northern KwaZulu-Natal on Saturday.
The prince was killed by unknown gunmen over a week ago.
Beautiful to see, some of the late King Zwelithini's children were spotted together today, Princesses from KwaKhangelamankengane Royal Palace and one of their brothers Prince Phumuza of KwaDlamahlahla Royal Palace during their uncle's funeral. #ZuluRoyalFamily pic.twitter.com/gIBKhGwNKl

— Nhlanhla Mabaso (@_NMabaso) December 3, 2022
The Zulu royal family gathered to pay their final respects to the prince, with royalty and other dignitaries in attendance.
Prince Mkhulumeleni Zulu described what he saw at the scene of his brother's death.
"I am speaking…and it's not easy for one who got the sense of this incident, I saw something I've never seen before. A crucial incident has brought disgrace to the community of Osuthu."
The prince was described as a peaceful person.
"He liked peace and, in fact, he brought peace wherever there was conflict."
His passing was also described as a great loss to the community because of his work with schools and mentoring the youth.
King Misuzulu did not attend the funeral as customary law prevents a king from attending burials.
The late prince's brother his royal highness Prince Mkhulumeli Zulu describes his slain younger brother as a peace maker. #ZuluRoyalFamily @ewnreporter

— Nhlanhla Mabaso (@_NMabaso) December 3, 2022
The prince's daughter said accepting her father's death has been hard.
Princess Lebo Zulu paid tribute to her father who was shot and killed by unknown assailants in Nongoma in KwaZulu-Natal last month.
The pair shared a very close relationship.
She said she's still struggling to accept her father's death.
"I'm still in disbelief, I still go to sleep and pray that I wake up and find out that it was all just a bad dream."
The princess says she will miss every moment they have shared.
ad
"I know how much you loved me daddy. You always made sure I knew that. I remember…with homework, you'd camped out on the couch to keep me company."
She promised to make her father proud.