Menu hacks keep fast food exciting. There will always be people out there who believe they can actively improve a meal with a few smart tweaks, hell, you may be one of them. And it's true — if you know what you're doing, you can absolutely take a good piece of food and turn it into something great. That's why In-N-Out has a secret menu, why the Taco Bell Reddit is full of menu hack posts, and why remixed items and smart ways to order go viral on TikTok, sometimes even going on to become menu staples themselves (see: Chipotle's fajita quesadilla).
I've only seen a menu hack go horribly wrong on a few occasions, like when McDonald's decided to make a few hacks official and then totally botched the rollout by making you assemble them yourself. Or when someone comes up with an idea that seems smart but becomes an absolute hassle for the employees to assemble, like Chipotle's banned $3 Burrito hack. But for every McDonald's Land Sea and Air sandwich, there is something truly next level like Five Guys' Patty Melt. And now I think I've discovered something that is equal to, if not better than that mighty hacked dish.
This might quite possibly be the greatest fast food chicken sandwich in the entire fast food universe. Yes, even better than Popeyes. I'm talking about the Raising Cane's Chicken Sandwich On Toast.
What is the Raising Cane's Chicken Sandwich On Toast?
Raising Cane's has arguably the best fried chicken in all of fast food — it's why the drive-thru lines are epically long and why celebrities can't stop teaming up with the brand. So presumably, since Raising Cane's has the best fried chicken, they should have the best fried chicken sandwich, right? Wrong! Trust me I know — I'm constantly hunting down new chicken sandwiches whenever I can. For the most part, nothing really beats Popeyes. Raising Cane's sorry excuse for a sandwich doesn't even crack the top five.
The big issue with Cane's sandwich is the bread. And the fact that the sandwich is constructed from three chicken tenders, rather than a single chicken breast filet. Not only does this sandwich fall apart as you eat it but the bread is also so bland it's not worthy of the chicken that sits on it — which is especially frustrating when one of Raising Cane's best menu staples is its garlic-buttered grilled Texas toast. Why isn't the sandwich constructed on Texas toast instead?
Because fast food chains can be pretty dumb and sometimes miss very obvious wins (add nachos to the menu, Chipotle! What are you waiting for?!)
Anyway, to have bread and chicken this good and not put them together is criminal! This hack remedies that by combining two of Cane's best foods into one delicious dish.
How To Order A Chicken Sandwich On Toast At Raising Cane's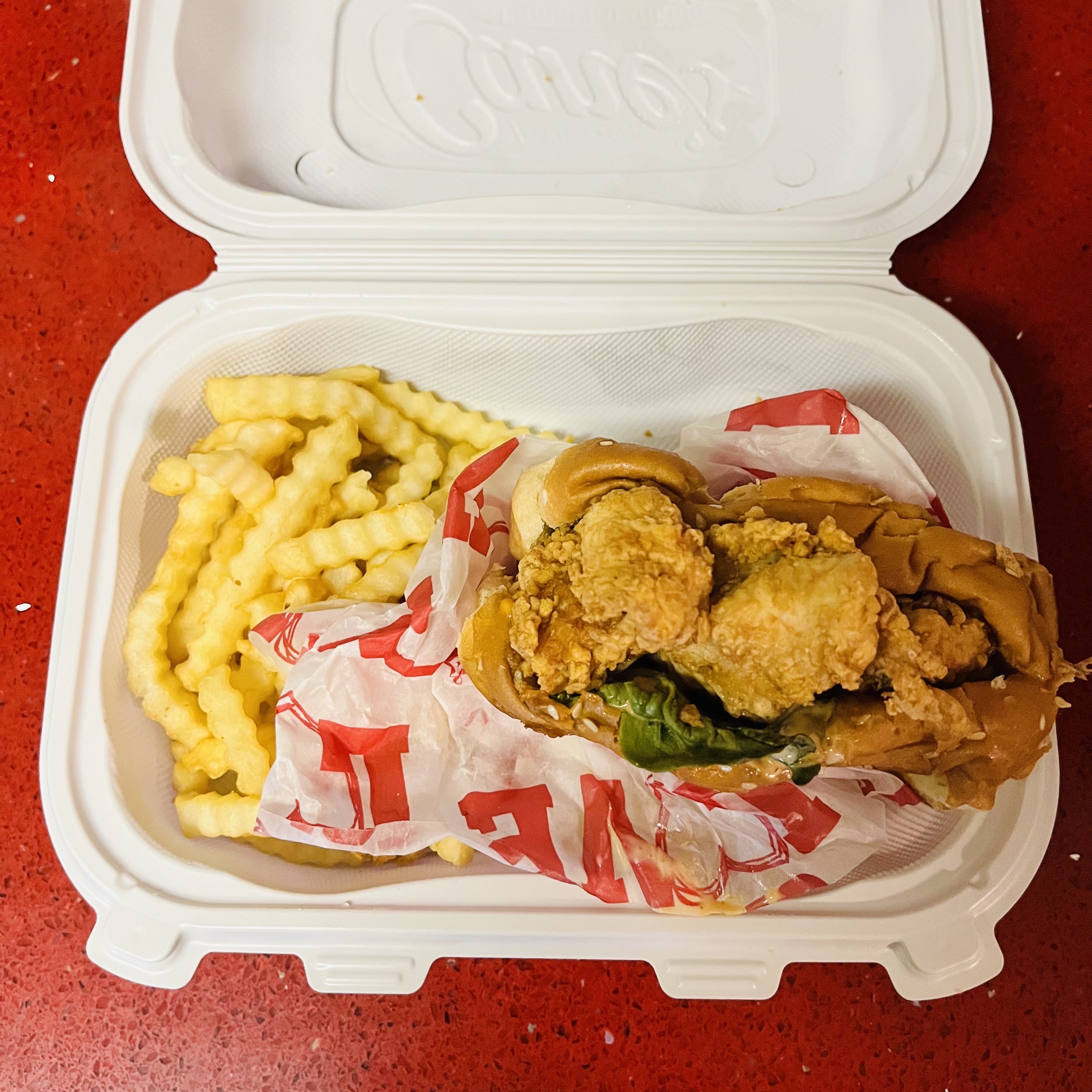 There is nothing worse than a menu hack that's a gamble. Asking for an alteration and getting a blank stare from the employee is a truly cringe-inducing experience, luckily, this isn't a problem at Raising Cane's.
If you simply ask for a "chicken sandwich on toast" you might get a follow-up question, but for the most part, they'll know what you're asking for. Take it a step further and ask for the toast to be 'buttered on both sides' or to use Cane's actual lingo say "can I get a sandwich on toast, bob?" [as in, Buttered On Both] And they'll ensure that your Texas toast is grilled and buttered on both sides of the bread. This will enhance the flavor and offers a crunchier mouthfeel.
Technically, this is a combination of two hacks — the sandwich on toast and the "bob." You can attempt to take it a step forward and ask for the lettuce to be replaced by slaw but I've been rejected for this request before, so order at your own risk. At worst, you can simply open the sandwich and add the slaw yourself.
Is The Raising Cane's Sandwich On Toast Hack Any Good?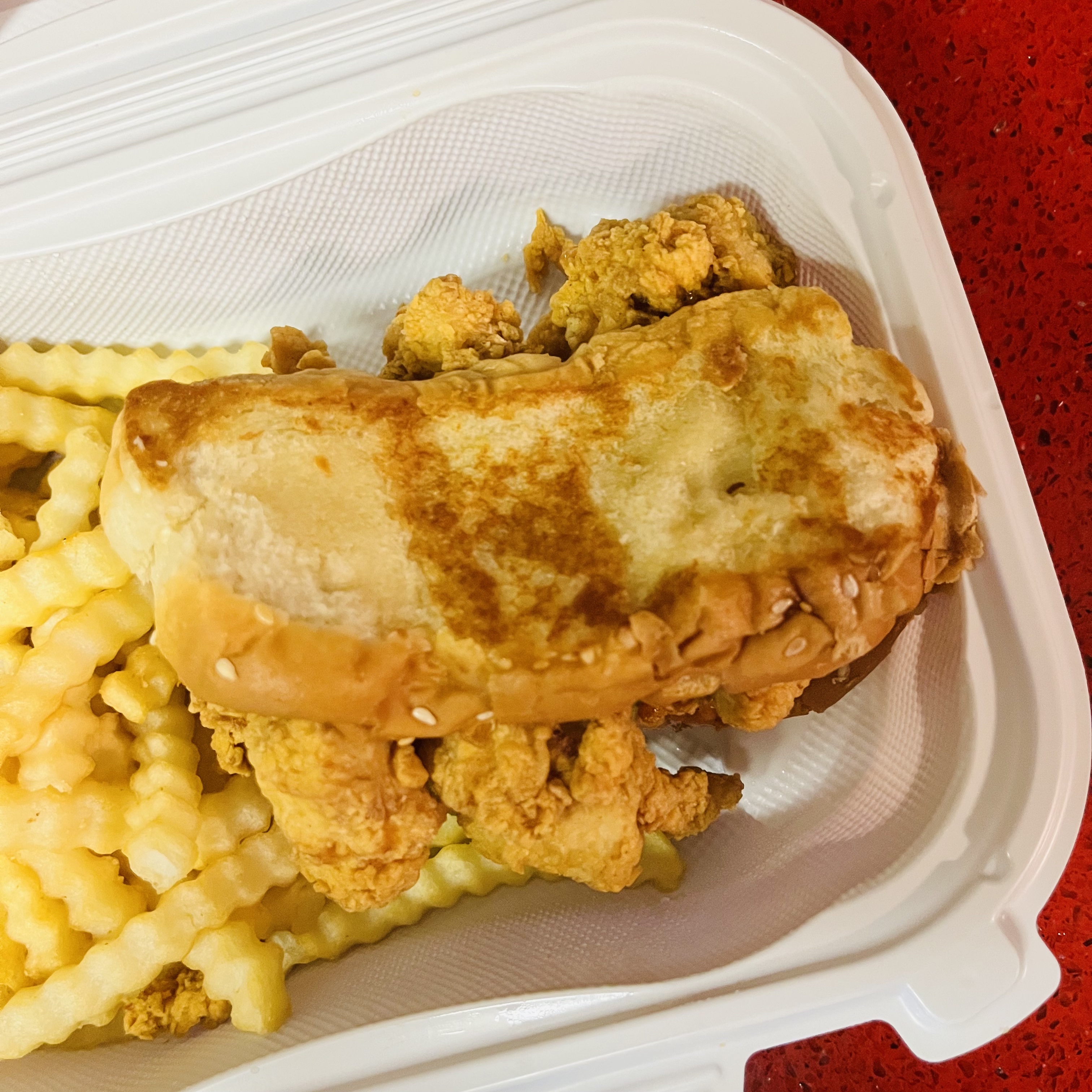 I'm not being hyperbolic when I say this is the best chicken sandwich in all of fast food and trust me — I'm pretty sure I'm the global expert on the matter. While it's a simple sandwich build, every element is an improvement over Popeyes. The chicken is hand-breaded, never-frozen, and super tender. The Cane's sauce is savory, complex, and downright addicting, and the butter and garlic combination adds a rich, sweet, and fragrant sensation to the sandwich. It truly has no fast food equivalent. The satisfying crunch you get from the doubled grilled bread is audible ecstasy!
It also fixes the build flaw of Cane's sandwich, because the Texas Toast is smaller than the bun commonly used for the sandwich, it's easier to hold it all together with two hands, ensuring that the tenders don't slip and slide out with each bite.
There are other ways to improve this sandwich, too. If you like your chicken a bit crunchier, you can ask for the tenders to be cooked "extra crispy" or if you're trying to stay away from OD'ing on flour, ask for the tenders "naked." The sauce on this sandwich is slathered on both the top and bottom piece of toast, but if that's not enough sauce for you, you can order a whole cup of sauce and dip with each bite.
Raising Cane's menu is incredibly limited but there are all sorts of inventive ways you can expand it. In this case, you'll be getting one of the best dishes in all of fast food in the process.
Find your nearest Raising Cane's here.