[This post contains spoilers for The Last of Us episode two, "Infected"]
The second episode of The Last of Us has multiple firsts for the HBO show. "Infected" (directed by Neil Druckmann and written by Craig Mazin) is the first time Ellie leaves the quarantine zone; it's also our first look at the Clickers, who are blind but highly sensitive to sound. They're disgusting, but the biggest first in the episode is the most disgusting.
In the final minutes of "Infected" (read our recap), Tess reveals that she's been bitten by an infected. She's not immune like Ellie, so it's only a matter of time before she turns. Tess sacrifices herself to save Joel and Ellie so they can continue heading west, but before she can ignite her lighter, detonating the building and its fungal infected inhabitants, she's the unwilling recipient of the grossest kiss on TV since Chainsaw Man.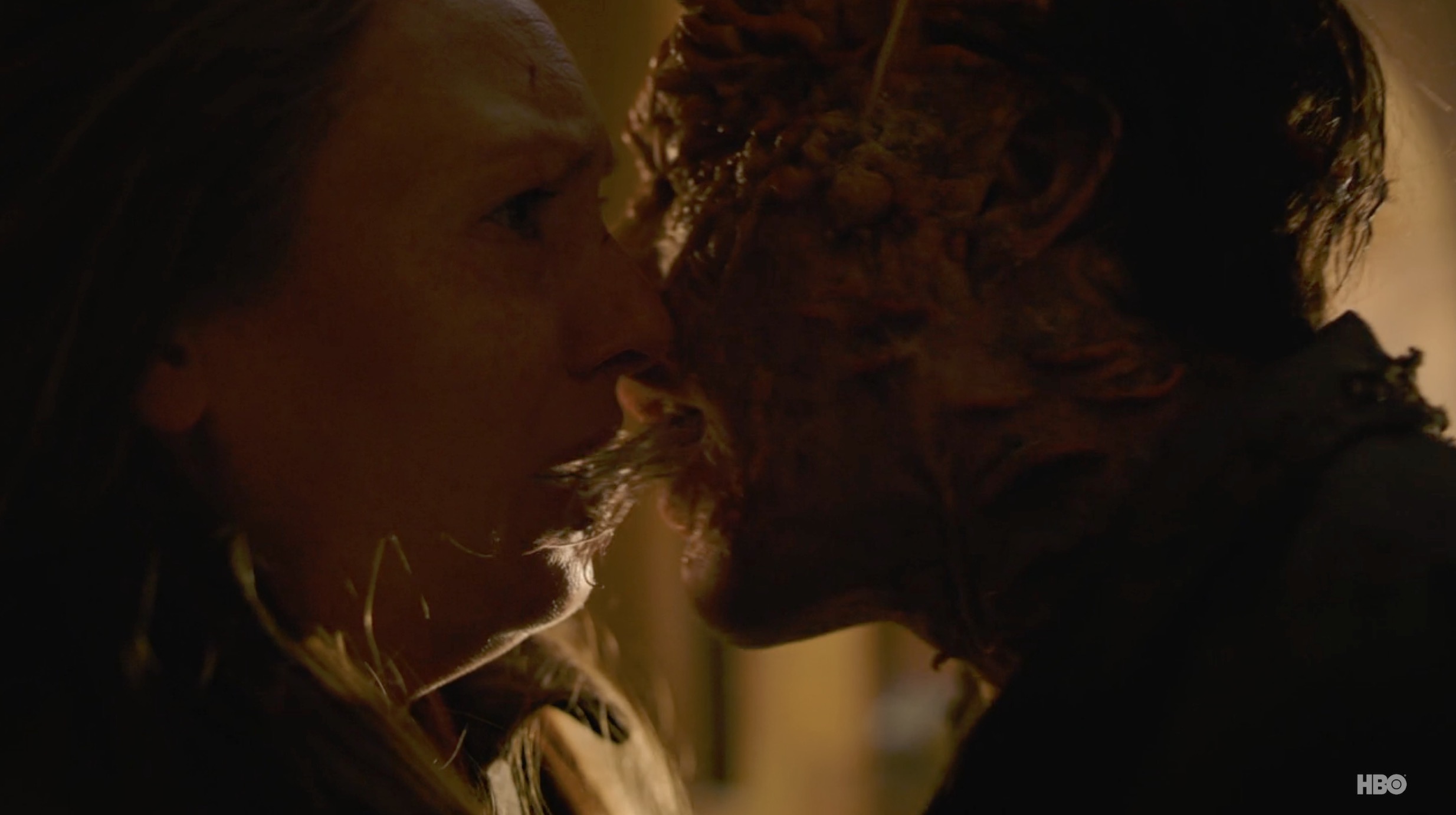 OK, it's not technically a "kiss" so much as one infected spreading to another infected. Still: not ideal. But I'd still rather make out with someone with fungal tendrils (great band name) coming out of their mouth than eat an actual mushroom. Yuck. Anyway, if Tess is actually dead, which is likely considering, y'know, kaboom, let's give it up for Anna Torv. The Mindhunter actress made an enduring impression in only two episodes — and one nasty kiss.
that kiss scene on the last of us was fucking gross

— addy (@addyvision) January 23, 2023
last of us show spoiler:

the infected kiss????????? why did they do that

— e (@abstractbugz) January 23, 2023
and the emmy for best kiss goes to… tess and stalker in television series the last of us

— 𝕴𝖆𝖓 (@therunboyrun) January 23, 2023
If anyone has seen the new episode of the last of us. Lemme just say, if we ever kiss? I wanna kiss like the clicker uwu pic.twitter.com/oeQhyMhqWW

— 🌌MonsterMutt (Twitch.TV/MonsterMutt)🌌 (@MonsterMutt_TTV) January 23, 2023
not to be that annoying bitch but that added kiss in the last of us why did they do that to my girl Tess 😭

— Valerie 🤍 (@Canavalia_Moon) January 23, 2023
For more on "Infected," learn how the virus started.