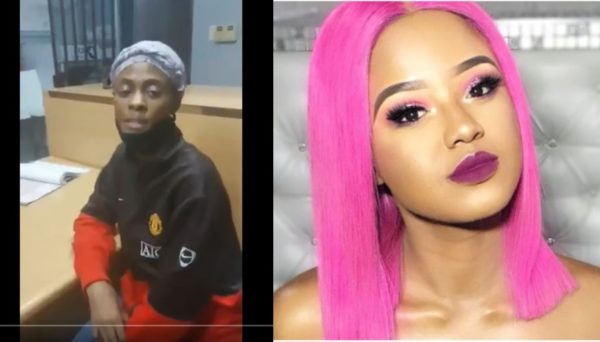 South African woman as gained the attention of most social media users, including celebrities, after it was reported that her lover named Themba abuses her.
The issue went for hours as people tried helping and some were willing to find her abuser and take the case to court, as the cry against GBV (Gender Based Violence) has been on for years.
However, it was shocking for most people after a video of the woman surfaced on social media, telling people to stay off her relationship.
This particular relationship reminds South Africans of how Babes Wodumo handled her situation with Mampintsha who abused her.
In 2019, Simelane(the singer) recorded a live video on her Instagram showing Maphumulo assaulting her in the bedroom of the residence they share.
As regards the SA woman who was abused but told people to drink water and mind their business, reactions flood social media.
This is a clear cry for help! This woman fears Themba than life itself! Even a Babes Wodumo card is a cry for help! pic.twitter.com/xTwjb807w0

— Nokuthula (@thulis_23) December 3, 2020
Is it just me or the only people fighting GBV is the people who are not victims ????

Babes Wodumo did the same thing https://t.co/0RL7IaxoBM

— NTSHIENG???????? (@Ntshieng_) December 3, 2020
I refuse to comment on things I do not know, I remember we once went mad about Babes Wodumo, only to be told that it was awareness campaign shoot, so I respect what she is saying as I step backwards.

— Spaza Shop Guru (@TshepoMaphepha) December 3, 2020
Shes got that babes wodumo sickness.

— IG Sirboring???????????????????????? (@sirboring_26) December 3, 2020
Babes wodumo is going through a lot ????

— inganekaJehova (@Dancey_life) December 3, 2020
This Babes Wodumo part 2 lady, kera the one who was abused by Themba… seems like she took it like someone who fucked up!!! She did something wrong and because another wrong was done back to her she feels it was fair!!! Yoh pic.twitter.com/sTfR01bmPB

— KAIZΞИ (@Tebza_TB) December 3, 2020
She just had to pull a Babes Wodumo on us!!! Im defeated???????????? https://t.co/HB89i30cpy

— Tswana Prince???????????? (@lamarashton) December 3, 2020